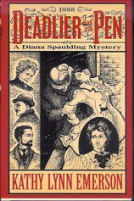 Deadlier than the Pen
by Kathy Lynn Emerson
Hardcover 9780970272782
Trade paper 9780970272768
Large Print 9780977191383
"Delicious! DEADLIER THAN THE PEN is my favorite kind of book: intriguing,compelling, with details so vivid, you can almost hear the clop-clop ofhorses' hooves on a city street. I can think of no greater pleasure thanto curl up on a rainy day with one of Kathy Lynn Emerson's wonderfulhistorical mysteries."
Tess Gerritsen
New York Times bestselling author of THE SINNER
"Kathy Lynn Emerson begins a lively new historical mystery series withDEADLIER THAN THE PEN. Using her trademark meticulous research, Emersoncreates Diana Spaulding, a widowed theatrical columnist struggling to stayafloat in the yellow journalism world of Gilded Age New York City. Adelicious mix of murder, madness, mystery, and romance!"
Mary Jo Putney
New York Times bestselling author of TWIST OF FATE
"The feisty heroine of DEADLIER THAN THE PEN hails from the 1880s heyday ofthe barrier-breaking 'girl' reporter. Winningly determined widow DianaSpaulding pursues mystery, adventure, and a dangerously attractive man fromNew York City to Maine to unmask a multi-murderer. Readers will love thiscannily plotted and action-driven jaunt into the nation's theatrical andjournalistic past, and the entertainingly meticulous research."
Carole Nelson Douglas
author of THE ADVENTURESS
"A delightful debut for a promising new series. Ms. Emerson has createdtwo fascinating characters whom readers will want to see again and again!Ms. Emerson leads us on a merry chase as girl-reporter Diana Spauldingfollows a mysterious man who could be luring her to her own murder! Don'tmiss this first installment in a series that promises to keep readerscoming back for more."
Victoria Thompson
author of MURDER ON MARBLE ROW
"An engaging mix of mystery and romance. Kathy Lynn Emerson has a graceful style and an impressive command of the period."
Daniel Stashower
Edgar and Agatha award-winning author of
TELLER OF TALES:THE LIFE OF ARTHUR CONAN DOYLE
"Bolstered by a perky heroine and some love dramatics, this fascinating historical marks the debut of a lively new series from the author of the Face Down mysteries."
— Library Journal
"Ms. Emerson's sense of place and the complexity of her characters make this novel stand out in the crowded bookshelves."
— Booksnbytes.com
". . . captures the ambience of turn of the century melodrama . . . Emerson does a grand job of creating the gas lit, horse drawn carriage feel of the era . . . a thoroughly entertaining read."
— I Love a Mystery
". . . a truly riveting mystery . . . Kathy Lynn Emerson is an accomplished author and DEADLIER THAN THE PEN is her most imaginative mystery yet!"
— Midwest Book Review
"Fast paced and well researched with a strong element of romantic suspense, this book recreates both rural New England's village life and gaslit New York's glamorous theater district, replete with bustled and corseted ladies, smoke-belching locomotives, and a spicy dash of melodrama perfectly suited to the times."
— Bookloons Reviews
" . . . a delightful mystery —an unapologetic throwback to the time in which it was set, yet with enough modern sensibilities that reveal the plight of the working woman in the nineteenth century."
—Historical Novels Review
"As in her Elizabethan series, Emerson clearly knows and loves this period. A very enjoyable read that will leave you eagerly awaiting Diana's next adventure."
— Drood Review of Mystery
"Author Emerson's medieval historical mystery series is well established. This new series will be a winner, too. Emerson's characters are realistic, as is her dialogue. She's an excellent historian, and slips the reader seamlessly into the period."
— Glencoe Wordsmithing
Visit Kathy Lynn Emerson's homepage to see when she'll be signing books near you.