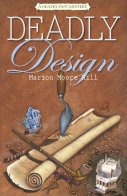 Deadly Design
Sept, 2009 Trade Paper Release
---
Summary
The architectural genius of Thomas Jefferson serves a prime role in this complex mystery.
What better way for a history lover to spend the summer than working on a dig at Thomas Jefferson's secret retreat, Poplar Forest! But no sooner does single-mother Millie Kirchner arrive in Lynchburg than she learns that an intern on a dig at neighboring Highgrove has been murdered. A crew of archaeologists and historians have been trying to prove the old mansion was a Jefferson-designed house. They are now murder suspects with ties not only to the staff at Poplar Forest but also to Millie's summer housemates.
One of her housemates is being stalked by an old boyfriend, but when a second murder occurs, Millie must wonder if he could be a murderer, too.
Millie's discovery of an old grave, dating back to the Lewis and Clark Expedition, launches her on a research quest that will link two contemporary murders to a deadly event in the past.
-- Check back here for reviews --
-- READ AN EXCERPT --
---
Copyright 2008 Pemberley Press. All rights reserved.
Last updated: 12 July 2009
Comments and suggestions
URL: http://www.pemberleypress.com/design.htm