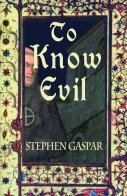 To Know Evil
Oct. 2009 Trade Paper Release
---
Advance Praise for To Know Evil
"Stephen Gaspar's TO KNOW EVIL is a moody and atmospheric medieval mystery with a sleuth as cunning as Brother Cadfael and a monastery as creepy as in Umberto Eco's NAME OF THE ROSE."
—Jeri Westerson, author of VEIL OF LIES; A MEDIEVAL NOIR
"Deeply atmospheric, TO KNOW EVIL combines the ancient mysteries of the DA VINCI CODE with a traditional whodunit. With accurate detail, Stephen Gaspar paints a riveting picture of medieval monastic life and a group of monks with human failings. Readers may see a bit of themselves in Brother Thomas of Worms."
—Patricia Wynn, author of the award-winning BLUE SATAN MYSTERY SERIES
-- Check back here for reviews --
Summary
The discovery of an ancient Gnostic codex threatens to bring down the Church in this medieval tale of murder.
In the year 999, on the eve of the millennium, a mysterious evil falls upon an isolated Benedictine monastery in the north of Italy. First one, then two more monks are found dead, apparently the victims of accidents. The abbot insists on ruling them as such, despite the arguments of Brother Thomas of Worms, a respected scholar, who prides himself on his learning and reason.
It is against the Rule to question the abbot's authority, but Brother Thomas chafes against the Rule. He values knowledge too much. A discovery of an ancient Gnostic codex by his young protégé, Brother Nicholas, has made him question his very vows. An ancient Christian sect, the Gnostics were deemed heretical, for they proclaimed knowledge as the basis of faith. To a scholar like Thomas, this is a seductive idea, especiallly when the abbot refuses to allow him to investigate what he knows to be a series of murders.
The monastery conceals a greater secret that threatens to shake the very foundation of the Roman Catholic Church. But is the Judas codex somehow linked to the killings, and if so, how?
It has been said, "There is no sin but ignorance," but Thomas learns there is a much greater evil in the heart of one of his fellow monks. As the millennium approaches and the monks brace themselves for the final confrontation between Darkness and Light, Thomas confronts the murderer and truly begins to know evil.
-- READ AN EXCERPT --
---
Copyright 2008 Pemberley Press. All rights reserved.
Last updated: 12 July 2009
Comments and suggestions
URL: http://www.pemberleypress.com/evil.htm