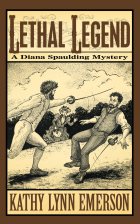 Lethal Legend
April, 2008 Trade Paper Release
---
Praise for Lethal Legend
"Emerson's fourth and final tale of the sleuthing pair is both historically interesting and suitably mysterious. "
Kirkus
" . . .plenty of intrigue, eccentric characters and well- researched history. . . Suspecting fraud, murder and old-fashioned gold-digging, Diana and Ben investigate leads that unveil professional jealousy, revenge and more murder. Newcomers will find this period cozy works just as well as a stand-alone."
Publishers Weekly
" . . .an entertaining late nineteenth century regional cozy starring an intrepid heroine . . . Fans will appreciate the latest entry in the stupendous Spaulding saga."
Harriet Klausner
Summary
Diana Spaulding and her fiance Dr. Ben Northcote have returned to Bangor, Maine, to prepare for their long-awaited wedding, when again murder intervenes. Ben has been secretly called to Keep Island, the property of his childhood friend, Graham Somener, to treat the workers on an archeological dig who have suddenly taken ill. When Benís examination turns up poisoning, the reclusive Graham refuses to call in the authorities, and the last thing he wants is a reporter like Diana digging into his past. Then, one of the men is murdered, and Diana must help Ben uncover the killer while their eccentric mothers quarrel over wedding details.
Filled with entertaining period detail, the Diana Spaulding mysteries inspired by Nellie Bly, recall the days of the American frontier. In this final installment, Ms. Emerson gathers the eccentric characters that have made this series so memorable. As Diana and Ben return to Maine, the demands of lifelong friendship draw them into peril off its rugged coast.
Ms. Emerson will be appearing at several mystery conventions throughout the year. Be sure to check her website for information about her appearances or to subscribe to her newsletter.
-- READ AN EXCERPT --
---
Copyright 2008 Pemberley Press. All rights reserved.
Last updated: 26 February 2008
Comments and suggestions
URL: http://www.pemberleypress.com/legend.htm