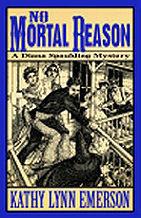 No Mortal Reason
April, 2007 Trade Paper Release
---
Praise for No Mortal Reason
"While Lenape Springs, the setting of "No Mortal Reason," might not be familiar to Maine readers, it is home to Emerson and based on the town of Liberty, N.Y., where she grew up. In her authorís note, she wrote that many of the details about the fictional setting she found in the memoirs of her maternal grandfather, John Gorton, who was born in 1878.
Itís those details that make Emersonís books such a joy to read. She does not bog readers down with details, but gives just enough so they can picture not only the setting her characters find themselves in, but also what daily life was like in the 1880s. Emerson does not skimp on the hardships of travel or the status of women at a time when they were considered property of their fathers and husbands."
Bangor Daily News
" . . .even as the characters wind their way throughout their adventures the reader feels like they are getting a picture of our ancestors, our own history. She is able to transport the reader into the lifestyle, mores and actions of America in the 1880s."
Front Street
"Her character-driven mystery thrives on the relationships she develops between her characters and especially Dianaís feisty insistence that she is a modern woman who can handle herself in any situation. RECOMMENDED. "
I Love a Mystery
"With its lively and engaging characters, its intriguing historical details, and its compelling multi-layered mystery plot, NO MORTAL REASON is pure joy to read. I very much enjoyed it."
óMiriam Grace Monfredo
Author of the Seneca Falls Historical Mysteries
"A decade-old murder, a hotelier hoping to turn his rural New York hotel into a fashionable spa, a spate of satisfyingly suspicious suspects, and Kathy Lynn Emerson is off and running with her new Diana Spaulding mystery. NO MORTAL REASON is full of plot twists and turns, rich historical details and quirky and intriguing characters. Read it and enjoy!"
ó Ann Parker, Author of Silver Lies
Summary
In 1888, intrepid "girl-reporter" for the New York Independent Intelligencer Diana Spaulding travels incognito to rural New York to locate her motherís estranged family. Unsure of the welcome that wayward Elmiraís daughter will get, she plans to test the waters before revealing her identity to her long-lost kin. She finds that her temperamental Uncle Myron has not forgiven his sister for leaving to seek a life of her own. More importantly, Uncle Myron, spurred on by a crooked investor, is risking the Hotel Grant on a pipe dream of turning fictional Lenape Springs into the next Saratoga Springs. When reconstruction of a burned wing of the hotel uncovers a ten-year-old skeleton, Diana must employ all her investigative skills to save her sensitive Uncle Howd from the hangmanís noose.
Filled with entertaining period detail, the Diana Spaulding mysteries recall the days of the American frontier. With the lore gleaned from her grandfatherís memoires, Kathy Lynn Emerson brings an intimate perspective to the history of rural New York.
Ms. Emerson will be touring to parts of New York State, as well as Maine. Be sure to check her website for information about her appearances or to subscribe to her newsletter.
-- READ AN EXCERPT --
---
Copyright 2008 Pemberley Press. All rights reserved.
Last updated: 26 February 2008
Comments and suggestions
URL: http://www.pemberleypress.com/mortal.htm