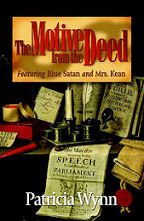 The Motive from the Deed
In stores now, this third in the Blue Satan Mystery Seriesbrings Gideon Viscount St. Mars and Mrs. Kean together again to solve amurder in the shadow of St. Dunstan's church.
Infer the Motive from the Deed, and show,
That what we chanced was what we meant to do.
. . . Alexander Pope
---
Advance Praise for The Motive from the Deed
"Wynn . . .has added an outstanding entry to a much-touted and award-winning historical series. Pour a cup of tea, and settle back for a journey to England in 1715, full of romance, adventure, and heart-stopping action."
ó Library Journal, starred review
"Armed with careful research into the political intrigues of early-eighteenth century England, the author creates an absorbing mystery with abundant action."
- Magill Book Reviews
"Based on historical events, this is an exuberant and gripping mystery."
- In the Stacks
Juneau Public Library
"While the mystery subplot was really quite compelling and wholly riveting, the thing to really appreciate about THE MOTIVE FROM THE DEED is the colourful and striking manner in which Patricia Wynn makes early 18th century England come alive. The brilliant manner in which she frames her mystery subplot, with actual historical events, and how she makes the colour and pageantry of the age a vital plot ingredient of the book was wonderful to behold. Add some very well realized character portrayals and a very compelling and suspenseful storyline, and you have a novel that is worth RECOMMENDING as something very special. All in all, a historical mystery novel worthy of note."
- I Love a Mystery
"This series is great fun. Mrs. Kean and the Viscount St Mars are a very appealing pair of sleuths and the romantic sparks flying between them will have readers eagerly anticipating their next book."
ó Sharon Kay Penman, Author of Prince of Darkness
"Blue Satanís third adventure is a satisfying blend of history, intrigue and romance, not to mention murder! Patricia Wynn gives the reader a fascinating glimpse into both the dangerous politics of the era and the details of daily life as they affect the exiled lord, the ladyís waiting-woman, and their relationship."
ó Carola Dunn, Author of the Daisy Dalrymple Mystery Series
---
More Swashbuckling Adventure
It is 1715, the first year in the reign of George I, and the Jacobites (followers of James Stuart) launch the rebellion that will become known as the "Fifteen." Against this backdrop, Hester Kean, waiting woman to her cousin, the Countess of Hawkhurst, learns that her brother Jeremy has been arrested for treason. Jeremy has eked out a living as a chapbook writer for a notorious bookseller in Fleet Street. When Mr. Curry is found throttled in his bookstall up against St. Dunstanís Church, Jeremy is accused of the murder. With the English Court bracing itself for civil war, Hester once again must turn to the mysterious highwayman Blue Satan to help her prove her brotherís innocence.
Blue Satan, the outlawed Viscount St. Mars, has ridden to Bar-le-Duc in Lorraine to persuade the Pretender James Stuart to delay the rebellion that could regain him his throne. St. Mars has been drawn into the conspiracy in homage to his father who was killed in the Stuart cause. But, surrounded by ambitious men, James will not listen to reason. He dismisses St. Mars, who must find a way back into England disguised as groom to Fanny Oglethorpe, sister of James Oglethorpe (founder of Georgia Colony) and a Jacobite spy. He returns, as the rebellion starts, to find Mistress Kean in need. Between them, Hester and Blue Satan uncover the secrets hidden in the ancient crypt of St. Dunstanís, involving greed, treachery, and treason. One of these secrets has led to murder, but when investigation turns up a Jacobite plot, St. Mars must again question his loyalty to a cause that is doomed to failure.
In Blue Satan and Hester Kean, Wynn has created intelligent, resourceful characters, who share a sense of humor and a sense of humanity in an era when dependency fostered petty jealousy and greed. The Jacobite cause, which still stirs feelings today, pitted Whigs against Tories, neighbor against neighbor, and law against justice. The political turmoil of 1715, caused by forces ranging from heart-felt loyalty and religious fanaticism to ambition and want, has lessons that are valuable today. In this engaging series, Wynn opens a window onto a critical period of history has time has forgotten.
To find out more about the Jacobite Rebellion known as The Fifteen, you can visit the Northumbrian Jacobites Home Page, sponsored and maintained by The Fifteen (the Northumbrian Jacobite Society).
-- READ AN EXCERPT --
---