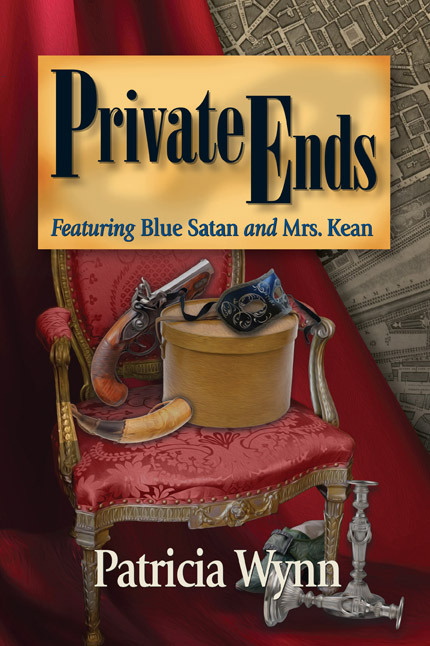 Private Ends
The 7th Blue Satan Mystery
When someone tries to murder the Lord Chamberlain, the King summons Hester to St. James's Palace to discover who is behind the plot.
London, 1717
Married now, Hester returns to Hawkhurst House to resume her place as waiting woman to her cousin Isabella, while St. Mars searches the coast of Kent for a ship to smuggle them into France. She arrives to find another crisis in her family, but she has barely begun dealing with it when she receives an emissary from King George. Word has reached him that it was Hester who exposed the murderer at Court last spring. Now, someone has tried to kill the Lord Chamberlain, and the King needs someone discreet to investigate.
No one can refuse a royal summons, so Hester must move into the Palace. She learns quickly that the King's suspicions have been strengthened by the serious rift in the Whig Party; but his worst fears are centered on someone more important than a few ousted ministers.
With too many potential suspects and hampered by secrecy, Hester can make little progress on her own. St. Mars, and his alias Blue Satan, must help her sort through the list of suspects by reaching back to the days of Queen Anne to a similar crime.
The pressure on Hester mounts, as the safety of the realm and the Hanoverian succession head faster and faster towards disaster.
Reviews for the Blue Satan Mystery Series
&quotConspiracies abound in Wynn's delectable sixth . . . Move aside, Tudor and Regency eras, for this dive into early Georgian England reveals a period perfect for a whodunit.&quot
Publishers Weekly
&quotIt's clear in this latest installment that Wynn has lost nothing off her fastball. . .A gripping series continues with energy and thrills to spare.&quot
Kirkus Reviews
&quotWynn writes incisively about the early Georgian period.&quot
Deryn Lake, dubbed &quotQueen of the Georgian Mystery&quot by The Times(London)
Here's how to order PRIVATE ENDS
---
Copyright 2017 Pemberley Press. All rights reserved.
Last updated: 6 September 2020
Comments and suggestions
URL: http://www.pemberleypress.com/whisper.htm