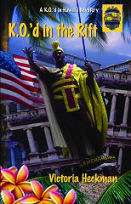 K.O.'d in the Rift
by Victoria Heckman
When the body of the liaison to the Lt. Governor's office is found in a sacred burial site, the incendiary issue of Hawaiian Sovereignty forces K.O. and her Hawaiian boyfriend Alani on opposite sides of a deep rift.
K.O. finds herself straddling the gulf politically, emotionally, and professionally as violence stemming from the U.S. takeover of the Hawaiian monarchy threatens the peaceful beauty of the islands. As her assignment pits her against a racially motivated separatist group, she must make the right choice between her heart and her ethics. But what is right when all the lines are blurred?
Corruption, divisiveness, and greed threaten the paradise K.O. loves. With her friends and her relationships at risk, she learns the sacrifice it sometimes takes to be a cop.
"Victoria Heckman delivers a knockout punch in this Hono-lulu of an action-filled story, demonstrating her love for the islands and how well she knows the lei of the land in page after page of history, mystery, murder, mayhem, and no small measure of suspense."
—Robert S. Levinson, best-selling author of ASK A DEAD MAN and HOT PAINT
"HPD officer Katrina Ogden faces more than one rift in Victoria Heckman's Hawaiian mystery, K.O.'d in the Rift. Pour yourself a mai tai and head for a secluded spot on the beach to enjoy the ride as Heckman leads you into the dark corners and perilous chasms of Hawaiian land disputes. Heckman's characters' pidgin rings true as K.O., in her search for a clever killer, must make painful choices in her personal and professional lives. Meanwhile, danger and desperation ride the Hawaiian trade winds in K.O.'d in the Rift."
—Deborah Turrell Atkinson, author of PRIMITIVE SECRETS and THE GREEN ROOM
"Dark, exciting doings in Paradise — murder, suspense, elder fraud and island passions, plus the witty, lovable Katrina Ogden — who could ask for more? Victoria Heckman knows Hawai'i, and tight storytelling. A great, fun read!"
—Thomas B. Sawyer, Head Writer ofMURDER, SHE WROTE, author of THE SIXTEENTH MAN