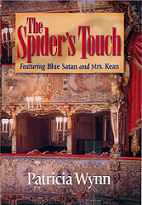 The Spider's Touch
by Patricia Wynn
"This glorious, thoroughly authentic historical is for most collections."
-- Library Journal
". . . a sweeping, exciting, engaging historical saga."
-- Midwest Book Review
"The characters are just as colorful, the plot just as intricate, and the growing friendship between St. Mars and Mrs. Kean just as delightful."
-- Murder Past Tense
"Wynn makes 1715 England come alive."
-- Margaret Baker's Bookshelf
". . .a gloriously political, historically detailed mystery complete with sophisticated story and character development. THE SPIDER'S TOUCH is well worth the effort to track this small-press product down."
-- Contra Costa Times
"Wynn ranks high on the list of over-achievers with the amount of research that helps bring this romantic mystery to life. Warp yourself back to the days when ladies as well as gentlemen retired to the bushes during picnics, men wore as much make-up as women and everybody wore masks to disguise themselves."
-- Williamson County Sun
". . . an involving novel . . ."
* * *
The spiderís touch, how exquisitely fine!
Feels at each thread, and lives along the line.
. . . Alexander Pope
Still an outlaw in his beloved England, Gideon Viscount St. Mars (Blue Satan) finds freedom on his estate in France, but he cannot find peace. The Jacobites (followers of the Pretender, James Stuart), anxious to mount the rebellion, come to seek his help.
Exiled in Lorraine, James is cut off from his English adherents. The time for the rebellion is now, yet the Duke of Ormonde, the leader of his army in England, has not called for the rising.
James sends emissaries to tempt Gideon to the cause. His reward will be the return of his fatherís title and estates as Earl of Hawkhurst. Having had his own inheritance unjustly taken from him, Gideon has found new sympathy for Jamesís plight. He agrees to return to England--to find the Duke of Ormonde and learn when the rising will take place.
But, once back in England, Gideon discovers that Hester Kean has become entangled in a web of Jacobite spies. Anxious for her safety, he warns her of danger, but when one of Jamesís men is murdered at the opera, Gideon must choose between his duty to the Pretender and his concern for Mrs. Kean. While Walpoleís agents work to unravel the threat to King Georgeís crown, Gideon--as the highwayman Blue Satan--helps Hester solve a mystery that bears all the marks of The Spiderís Touch.
Order your copy of The Spider's Touch.
To find out more about the Jacobite Rebellion known as The Fifteen, you can visit many websites on Yahoo.com. Our favorite is the site belonging to the Northumbrian Jacobite Society.
---