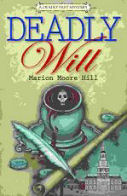 Deadly Will
In 1789, American Revolutionary Nathan Henry imitates his neighbor and hero, Benjamin Franklin, by creating an extraordinary will, not to be read for over two hundred years.
In 2001, Millie Kirchner receives an invitation to the reading of the will of an ancestor she never knew she had. To a struggling single-mother this appears to be a hoax, but the promise of a trip to historic Philadelphia to meet the relatives she's always missed is almost as alluring as any inheritance. Among her new cousins are a few she could well do without, but when one mysteriously drowns and another is killed, Millie begins to wonder if she might be next.
"DEADLY WILL is a winning combination of character, plot and setting, a lively beginning for a promising new series. Its characters are appealing, multidimensional and worth caring about, especially tough but likable 27-year-old heroine Millie and her acerbic-witted elderly buddy, nursing-home-resident Sylva. Its Philadelphia-area historical settings provide a vivid, deceptively benign backdrop for modern-day betrayal and murder. Lovers of American history and antiques fanciers will especially enjoy the way details from the past influence the present. The spirit of Benjamin Franklin seems to hover over all."
—Billie Letts, best-selling author of
Where the Heart Is (an Oprah's Book Club selection)
and Shoot the Moon
"Captivating, and charming . . . Antique buffs and history lovers will especially appreciate the setting for this book."
—M. E. Cooper, author of true crime and
award-winning mysteries set in 15th century Italy
" . . . blends the history of an eccentric eighteenth century Philadelphian with a group of his greedy modern-day heirs . . . This multi-layered plot makes for an enjoyable read and will keep you turning the pages until the very end."
—Sara Sue Hoklotubbe, Author of Deception on All Accounts,
Wordcraft Circle Writer of the Year 2004
The "debut of a promising new series that will incorporatedifferent locales important to the American Revolution, Hill . . . offers a lively look at antiques dating and collecting, conveys a great sense of old Philadelphia,and blends elements of the traditional cozy with a new twist on that genre. This will appeal to American history buffs and readers of popular antiques mystery series."
--Library Journal
"*** Ms. Hill has created an enjoyable story focusing on Philadelphia, American History, antiques and greed. There is a classic cross sectionof characters with the focus being Millie. . . . a pleasant read and, for cozy readers, worth trying."
--DorothyL
---